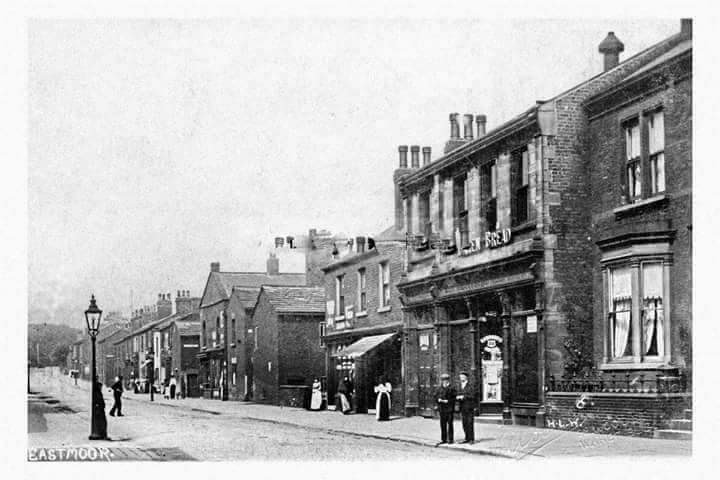 Stanley - Road, Aberford Road & Greenhill Road
Stanley Road, its continuation - Aberford Road and the side street - Greenhill Drive as far as I can tell, was an area which was central to the story of the Wakefield Bagnalls.
Stanley RoadMap
The Coliseum, also known as The Star and The Rex cinema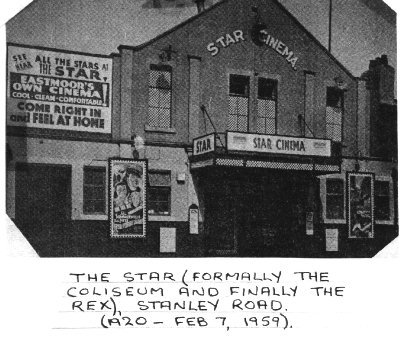 This cinema was built by William Bagnall and is mentioned in an article by Necia Potter:
About 1912 Eastmoor got it's own entertainment when William Bagnall built the Coliseum on Stanley Road just across the road from where he lived. In 1933 sound was installed and the name was changed to the Star. Eastmoor residents had there own cinema until 1959 by then its name had changed to the Rex. Since then the building has been used as a Bingo Hall, Dance Hall and is now a billiard hall. A programme for March 1957 gives forthcoming attractions like "The king and I" and "Don't Knock the Rock" with Bill Haley.
- Necia Potter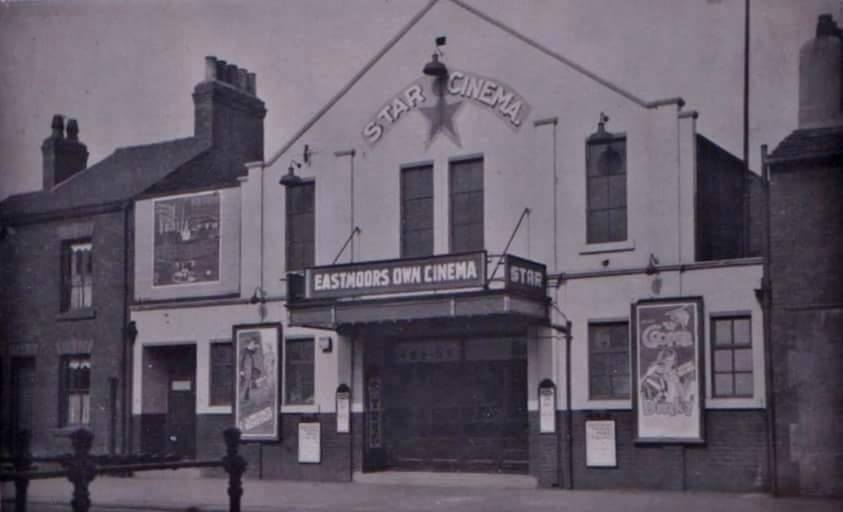 From cinema treasures:
By 1917 it was estimated that there were over 3000 cinemas across the country. And during the war Cinema played a crucial role. By 1939 the number had risen to 5000 and the cheapest seats cost sixpence.
- Cinema Treasures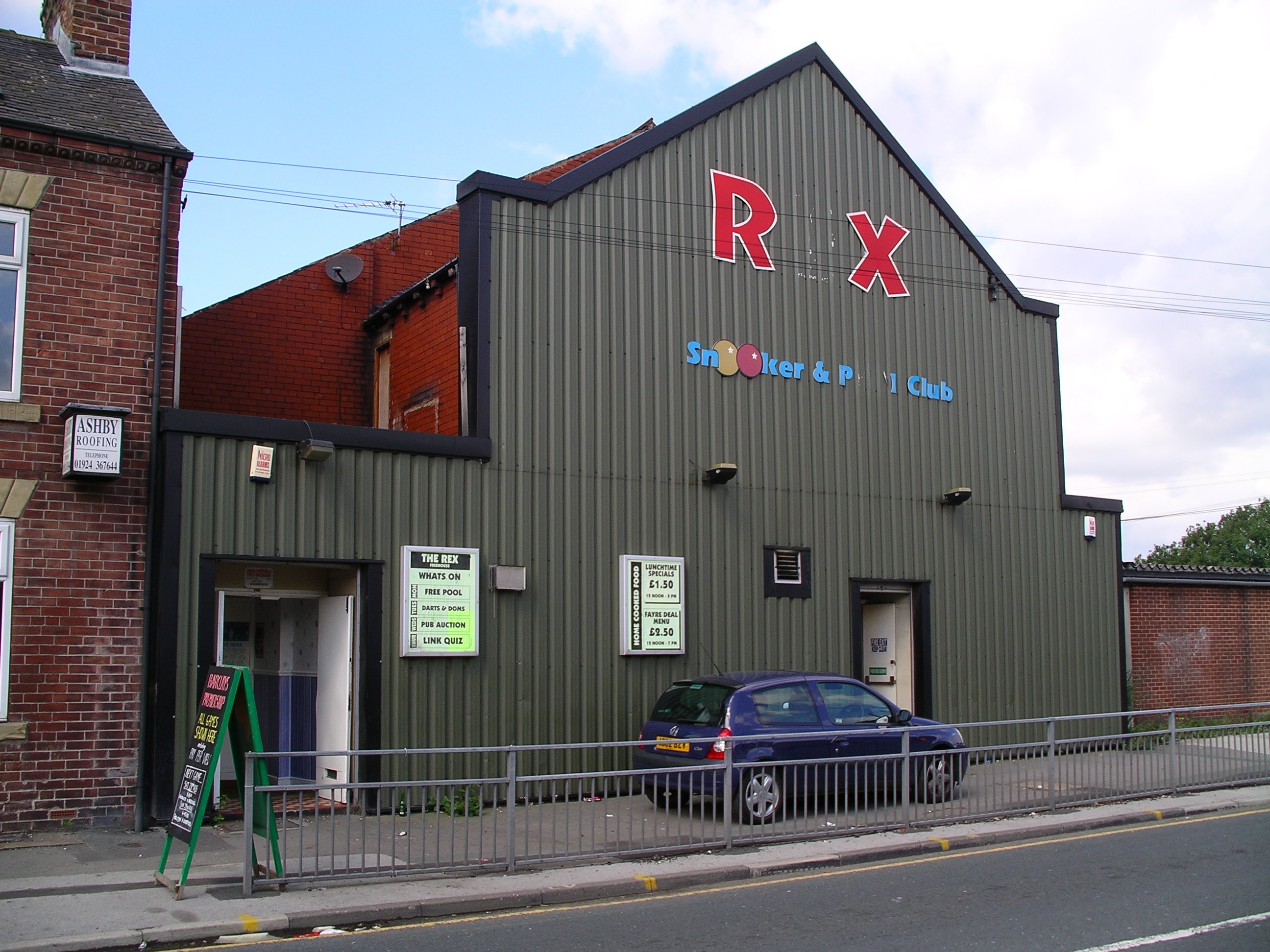 There is also more information here at: Cinema Treasures.
In Wakefield, West Yorkshire, the Coliseum Cinema opened in November 1920. It was converted to sound in early-1930, showing its first sound film, "The Broadway Melody" on 21st April 1930. In 1933 the cinema was acquired by Walter Eckart's Star Cinemas group. Following a £2,000 transformation, which included a new screen and new Kalee projectors with BTH sound, it re-opened as the Star Cinema on 4th December 1933 with Laurel & Hardy in "Fra Diavolo". In 1945 Star sold the cinema to Park Row Cinemas Ltd. for £2,000. Its name was changed to the Rex Cinema.
The Rex Cinema closed on 7 February 1959 with, rather ironically, "The Killing", starring Sterling Hayden and Coleen Gray. It became a ballroom, the Rex Rendezvous, before moving over to bingo. By December 1998, when my photograph was taken, it had become the Rex Snooker and Pool Club.
By 2012 it had become the Vegas Sports Bar, and the façade has been covered with metal cladding.
- David Simpson
1959 Press - Rex Cinema Sale- Wakefield Express - 18th Apr 1959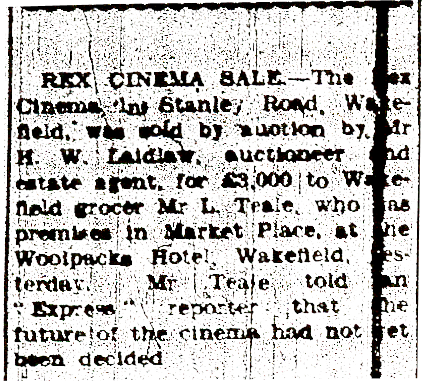 REX CINEMA SALE - The Rex Cinema in Stanley Road, Wakefield, was sold by auction by Mr H. W. Laidlaw, auctioneer and estate agent for &pond;3,000 to Wakefield grocer Mr. L. Teale, who has premises in Market Place, at the Woolpacks Hotel, Wakefield, yesterday. Mr. Teale told an "express" reporter that the future of the cinema had not yet been decided.
1976 Press - Mystery of wheel below bingo hall - Wakefield Express - jul 23rd 1976
Workmen carrying out alterations to the pavement in Stanley Road, Wakefield, unearthed a cellar beneath the old Rex Cinema - now used as a bingo hall - and in the cellar found a huge iron wheel and metal casing.
The bingo hall manager, Mr Thomad Holdgate, of Batley Road, Wakefield, said he knew the wheel was in the cellar and presumed it was from some form of steam engine originally used to run the first projectors for the cinema.
"We can get into the cellar from a manhole in the hall," he said. "I had been down there and seen this wheel, which appears to be in one piece and stands directly where the old cinema projection room used to be.
"When the workmen started work on the pavement they found the cellar unexpectedly. They have now built a new wall and filled in the hollow under the pavement. We can still reach the cellar from inside the hall."
Mr. Holdgate, who has been manager of the hall for eight years, said he believed it was converted from a dance hall to a bingo hall about 10 years ago and before that had been used as a cinema. The building is now owned by Colin Bartle and Co., the company which owns Wakefield Theatre Club.
* RB: I find it doubtful that a projection room would be in the cellar. Power supply for the projection room perhaps?
1976 Press - A mystery solved - Wakefield Express - Aug 6th 1976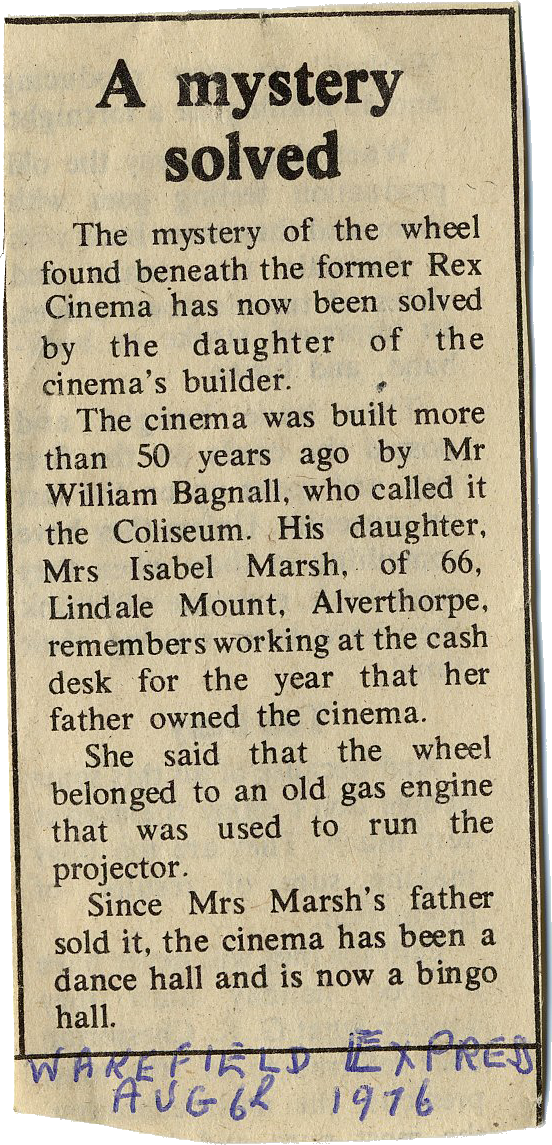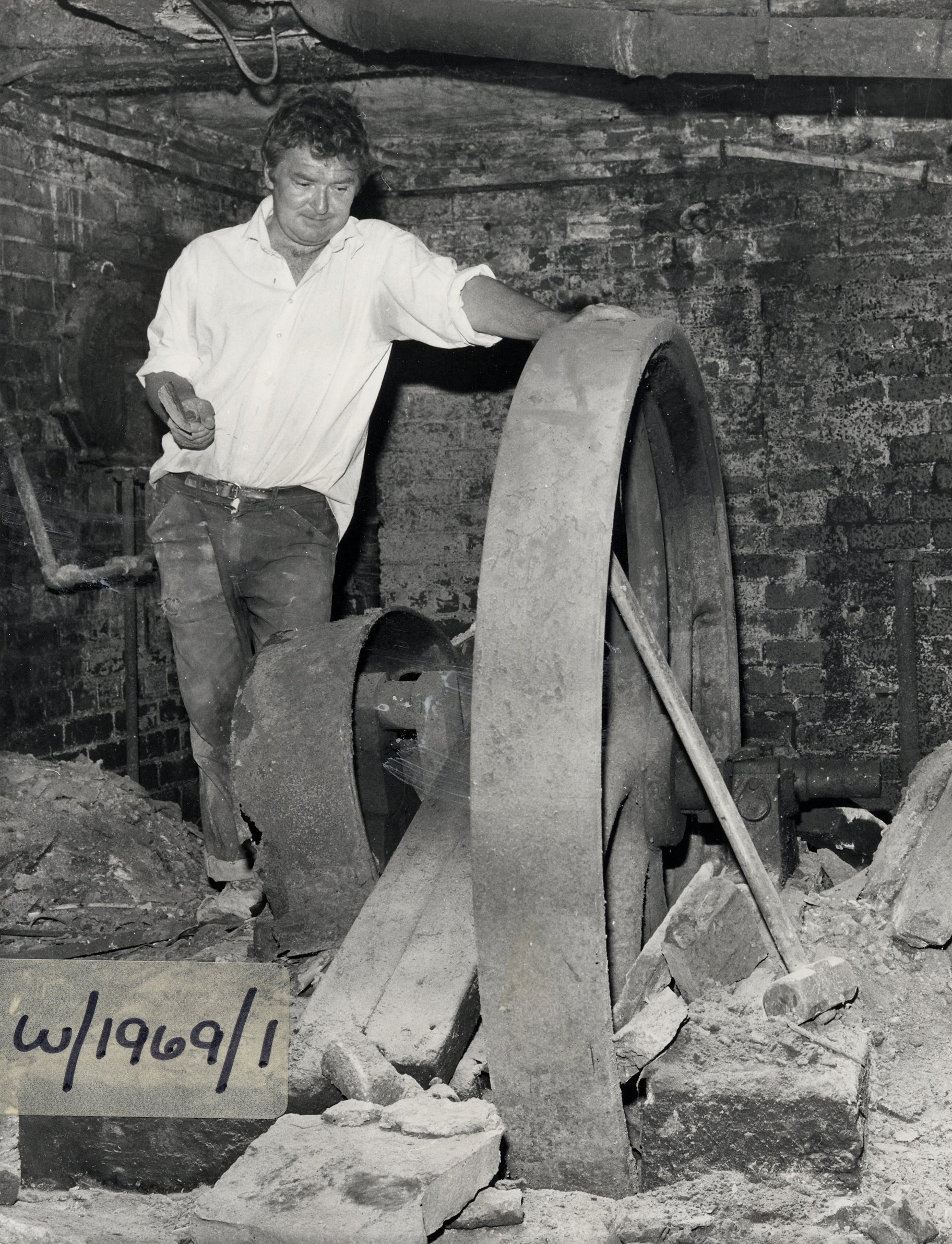 The mystery of the wheel found beneath the former Rex Cinema has now been solved by the daughter of the cinema's builder.
The cinema was built more than 50 years ago by Mr William Bagnall, who called it the Coliseum. His daughter, Mrs Isabel Marsh, of 66, Lindale Mount, Alverthorpe, remembers working at the cash desk for the year that her father owned the cinema.
She said that the wheel belonged to an old gas engine that was used to run the projector.
Since Mrs Marsh's father sold it, the cinema has been a dance hall and is now a bingo hall.
Wonderful recollections of the area from Craig Wiltshire:
I can remember going to the REX...cinema on a Saturday with my older sister.....a couple of times this was in the early sixties. I remember going in holding her hand and getting a ticket on the right as we went in then going into what looked like a big hall? I remember watching the rascals with alfalfa etc....this was the other film ,as in those day there were two films for your money.....I remember one visit ...the main film was a film with Stewart Granger in??? I wasn't too interested in that...I was happy to watch the rascals!! And another visit was jungle book ....I think this was an old black and white version not Walt Disney's......and watching a Johnny Weissmuller Tarzan film.
As I got older and the Rex became a bingo hall I started going to the ABC Minors on a Saturday morning .....a free pass and a certificate awarded on stage when it was your birthday...and a loominess ABC tin badge!!!!That glowed for a while in the dark......magic!! My cousin-Anne Haden then Pashley (remarried /stepfather) Jennie and Peter mum and stepfather,who lived at the Rawlings yard....has more memory of certain things ,as she was allowed to do things I was restricted from, as I was a little young I had to be chaperoned . Especially after the moors mystery/murders???
When I got a little older certain places had changed ...such as the Rex becoming a bingo hall. As for the Bagnalls I played there constantly...my cousin remembers house's and part of the brick works as I remember the period slightly after that ...the early 60's...as my cousin was older than I. I remember the changes in the late 60's and early 70's as clear as day.....My cousin however at the later stages started work and dating so missed some of the changes as her concentration was more on grown up things,as mine was still on 'how many pears could we scrimmage or Oggying (there were a few words for it) out of the butchers orchard' without him noticing and without damaging stuff....the trick was always speed! You had to be careful as the orchard was below walking/pavement level.....its hard to get you head around but pearmans ...or pearsons butchers next door to Seniors garage....was situated at the bottom of a slope! a big wooded gateway at the side of the shop slope and a driveway,that took you down to the butchers house/ bungalow, that was attached to the front shop!! to the front of the house next to the driveway was the orchard and lovely grass around the trees. The location of this now is to the left of Tesco express and the orchard was where the car park is now?? about 10 foot below was the orchard!!! If you walk around the car park now the metal railings are still there!! at the edge of the car park. These were there all those years ago....we used to sit with our legs dangling over the edge and hold on to those railings.....and were essential to hold onto to get up over and away from the orchard!!
I remember playing up Bagnall terrace riding on my cousins red tricycle ,round and round the block of house's in Bagnall terrace with the backs that faced the waste lane...I think was pipe yard??? Watching out for any grown ups that came out to use the bank/row of outside toilets...... And coming out of Bagnall terrace ...and shouting OOOYYGA!! through the open frosted glass windows at the side to the back of Prices ,where Peter and his assistant used to cut hair, at that time his father Billy Price tended to take a back seat in the running of the shop and the barbers? He lived in the house that was sandwiched between our shop Wiltshire @ 106 and the his newsagents Prices.We have found that Prices was a newer build as the house that was converted to the post office owned by Mr Thewliss, was original (as were our row) and numbered number 108? ours was 106..... and I am sure that Billy price's house in the middle was 106a!!! and was attached to the shop. It was unusual as the house was set back from the pavement and had a 4 foot high wall to the front and vending machines were in front of the wall.
Looking from the front Billy Price house was set back in the middle our shop front was about 10-12 foot from the front of the house and to the left about 3-4 foot further out was the front of Prices right on the pavement. Three paving slabs from the curb....our shop was 6 /7 slabs away from the curb. We had one vending machine that dispensed Beechnut...and then XL chewing gum (every 4 turn you gat a free turn and a free packet this was indicated by an arrow on the turning dial. At the front of Prices wall stood like guards ready to serve were 4 vending machines...two cigarette machines and to chocolate machines that dispensed Chocolate for a 'tanner' 6d (these were very soft in the summer time) there were two chocolate and two cigarette machines. The chocolate ones dispensed in one Cadbury Wafer bar, Fingers (pack of 6) ,Chocolate shortbread (packs of sis square chocolate covered biscuits), in the other Bar six. Picnic , Flake and Fry's chocolate cream in peppermint, plain and mixed fruit flavours. These were Prices machines and I can remember Peter filling them up........he eventually got rid of one of the chocolate dispensers but kept the cigarette machines saying' 'they made him money when he was closed' .This altered when our shop became an off licence!....he didn't like that at all and was always being sarcastic about the fact we had the licence and he didn't.
As kids we would ask people or rummage around in the trash!! for empty Park Drive cigarettes packets ,because if you save up 20..25 packets and sent them to the Park Drive address shown they would send you a Park Drive book of football!!!! FREE!! you just paid for the postage. It was a small but thick paperback similar size to a novel,with stories, fixtures last seasons results pictures and teams kit colours great reference book for the football fanatics...as I was!! I was always looking for pictures of Manchester United and my idol Georgie....Best that is number 7 then number 11.I had about 8 of these over the years all obtained by collecting old fag packets!!!!
As far as the brick works go I remember playing in the rubble as a small kid...My Cousin remembers this a bit more than I ...and some of the houses that were...I have forwarded your name to her.
- Craig Wiltshire
I remember the Rex as a cinema, a Saturday morning mini mecca for kids with a sandwich bar and glitter ball, a bingo hall and a ballroom, THE REX RENDEZVOUS.
l remember the REX being many things but when it was a ballroom it was owned, or leased, by the MORLEYS, they ended up being something to do with the MISS WORLD contests. My Grandma used to cook them both large Sunday dinners delivered across to them. She charged them 2/6d.
- Anne-Marie Mcfarlane
We recall a smallish gentleman (nick-named tuppeny) who used to keep order in the picture house. He would walk up and down the two aisles shining his torch and shout out to any offender(s)to keep quiet. It was a sign of the times that he was usually obeyed. He also checked the rear emergency exit to ensure it had not been quietly opened to let in friends without payment.
- Tony Thorp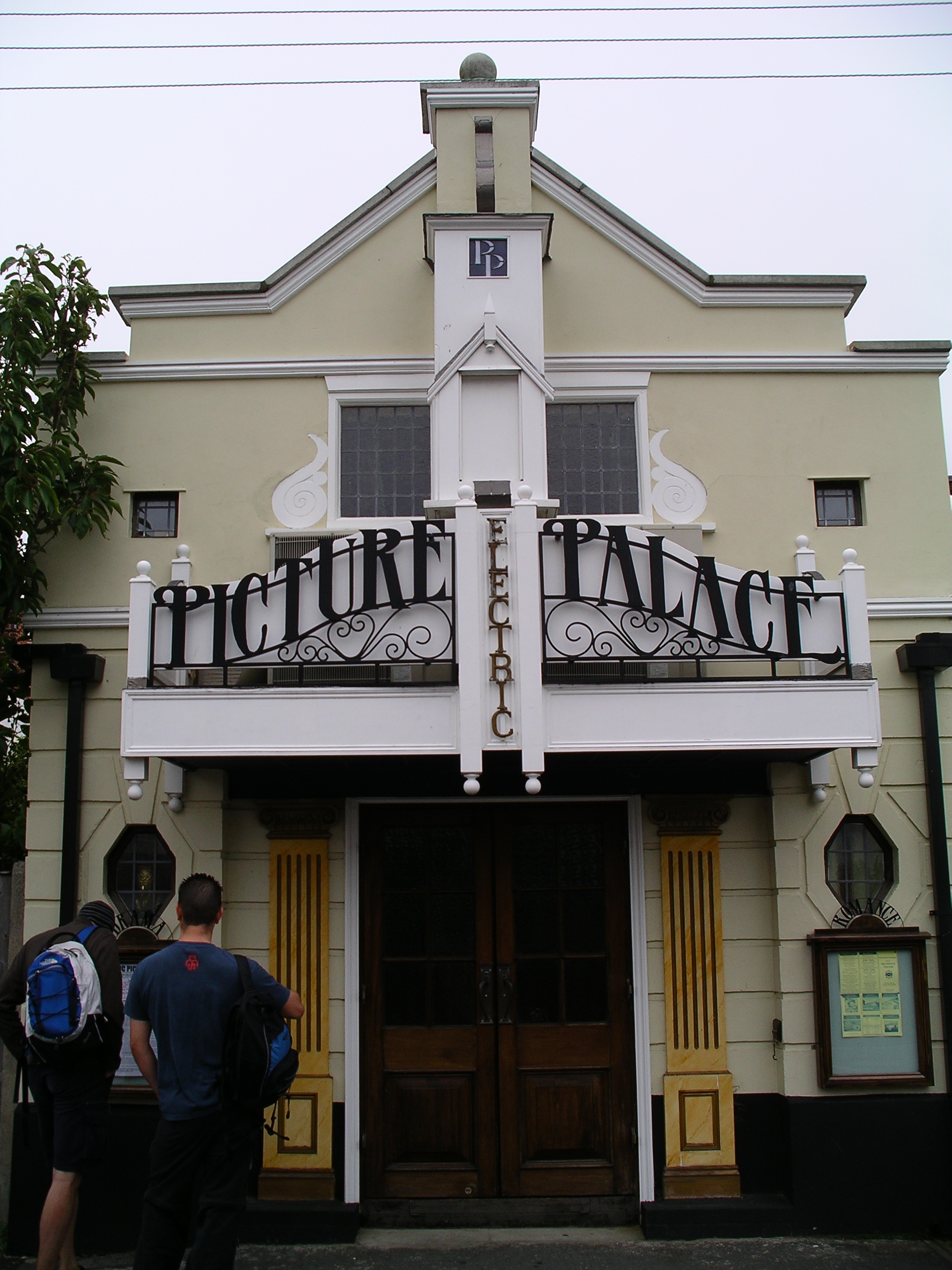 Footnote
It saddens me to see the decline of this once, key, community amenity. My only hope is that some wealthy and foresighted investor could buy it and restore it, sympathetically. As an example of a thriving business, the wonderful Electric Picture Palace - although not a restored cinema, is a little treasure in the coastal Suffolk Village of Southwold. Perhaps, if saved, This little Wakefield jewel could be polished and made to shine?
See also Moorvilla below.
Top of Page
Moorvilla, 108 Stanley Road
From this address list, we can see that Bagnall Terrace is listed, also Rawling's Yard.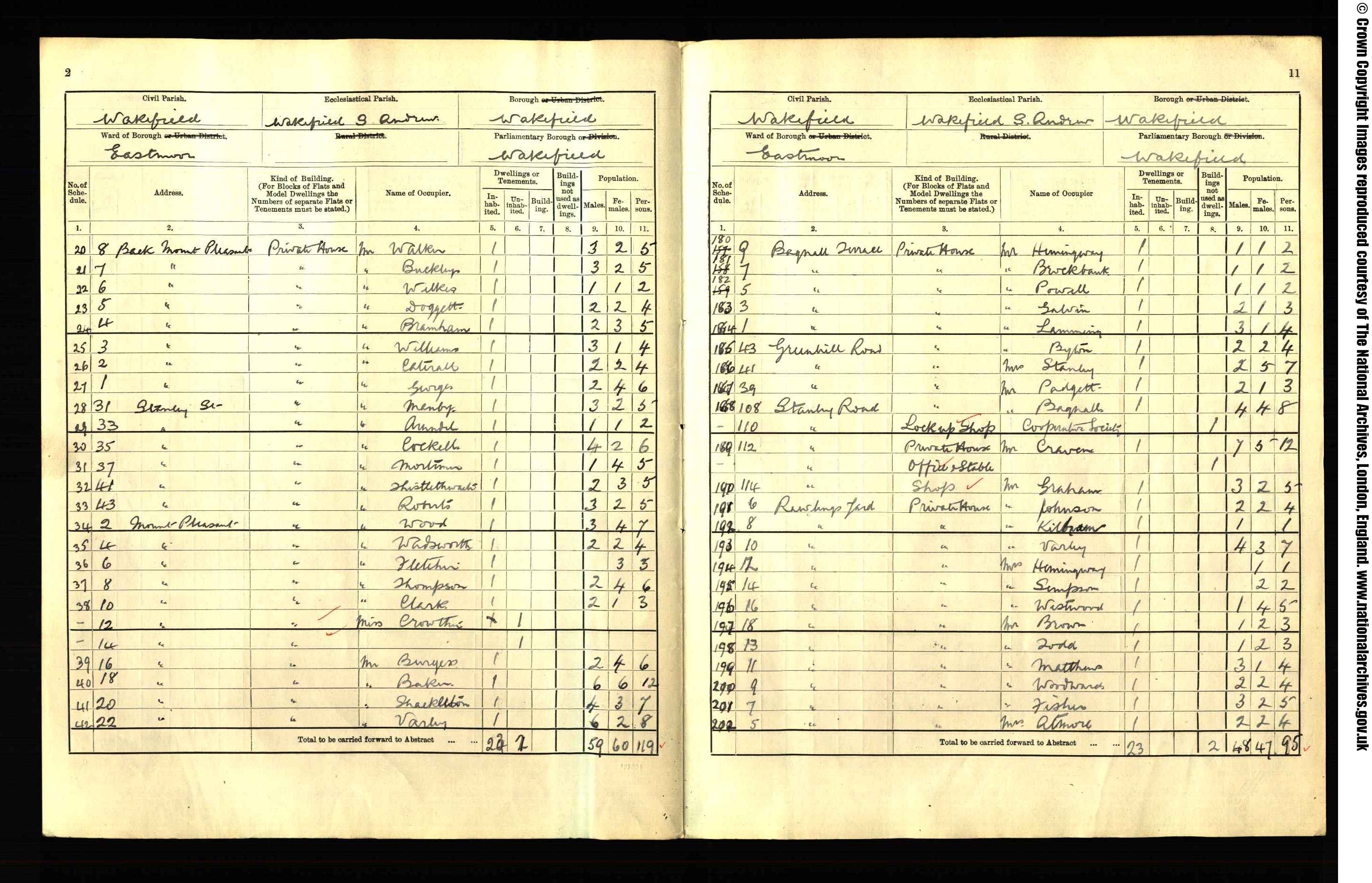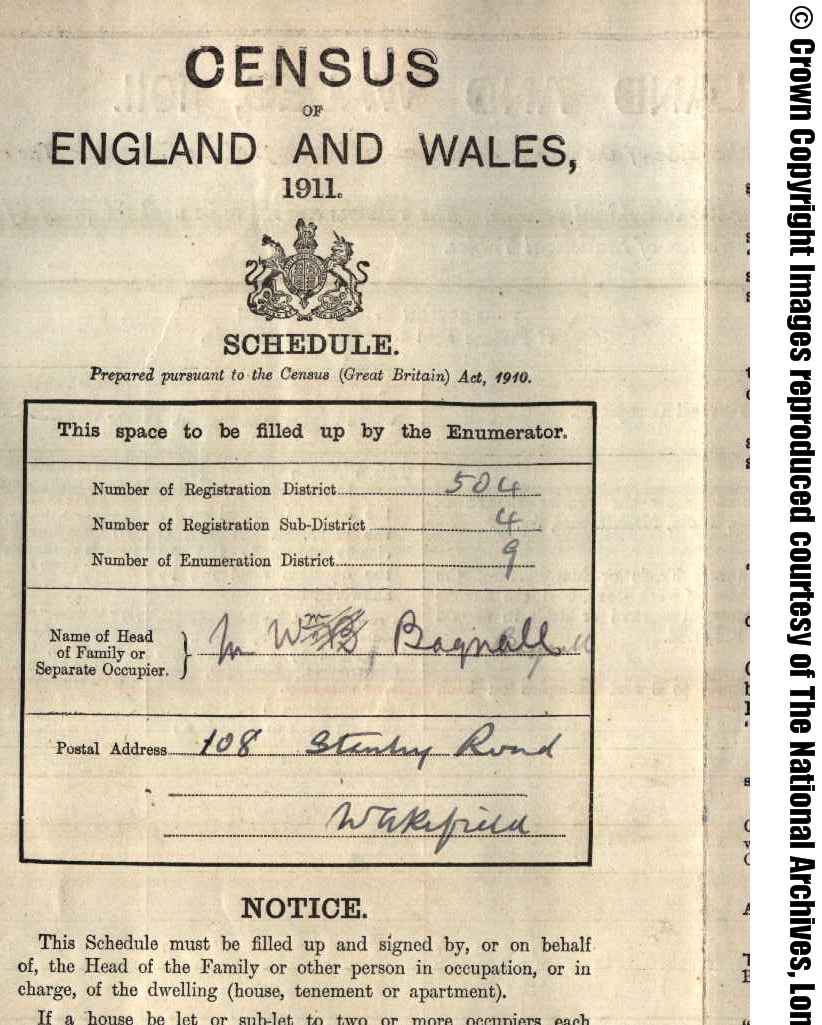 Bagnall (we know this is William and family) is listed at 108 Stanley Road.
This piece was written by Necia Potter and features on the Commanet website: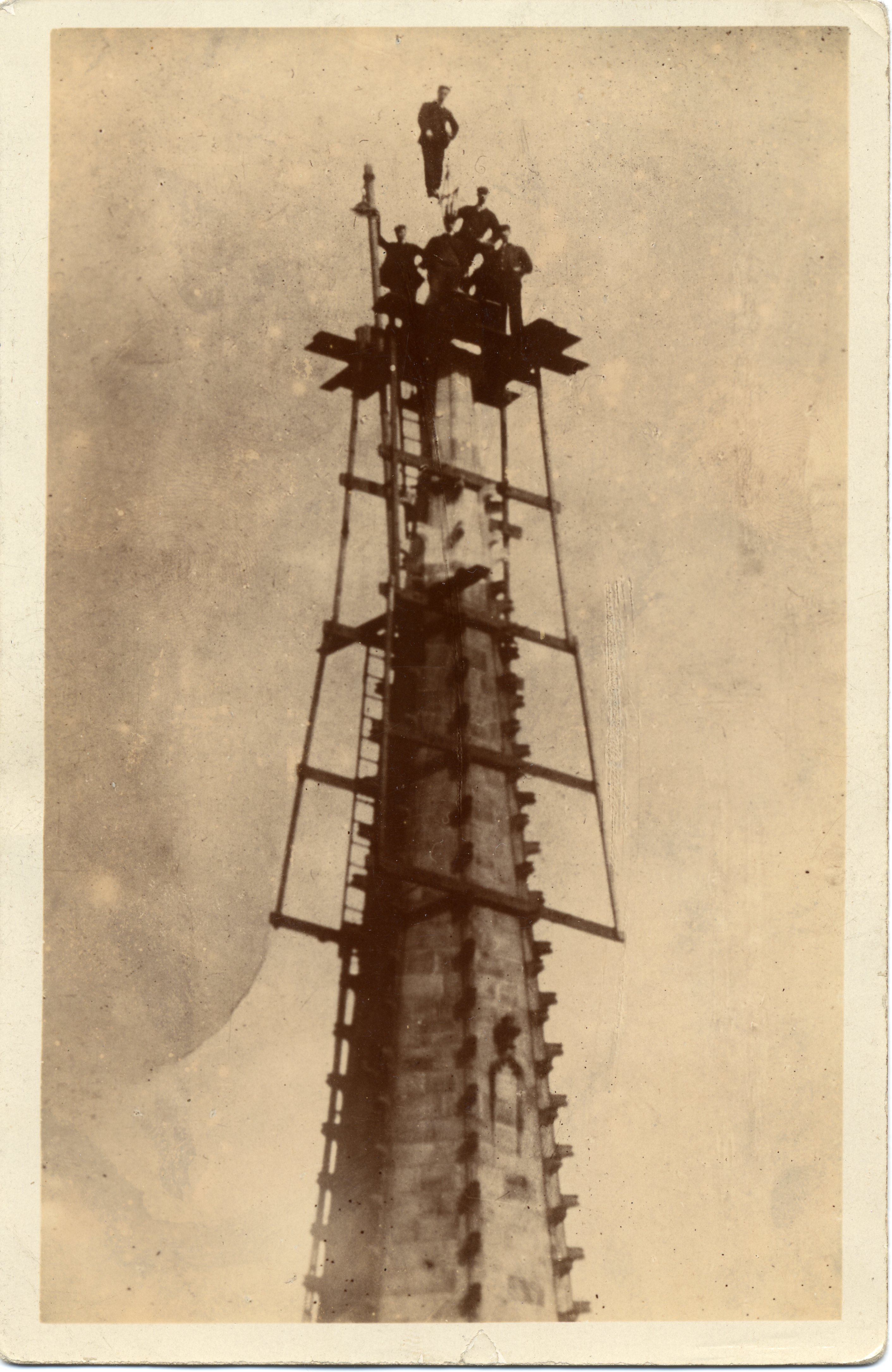 William Bagnall was a prominent builder of Eastmoor and was responsible for much of the property. He lived on Stanley Road for a period and when the Cathedral spire was repaired Mr Bagnall was asked to go up and make sure the repairs had been carried our correctly.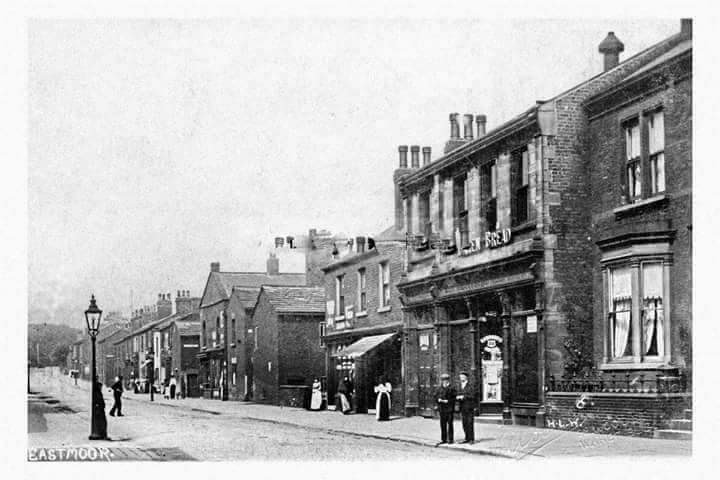 This photograph shows the Co-op on Stanley Road but the house on the extreme right was where William Bagnall lived for a period. The house front was altered just prior to the 39/45 War when Stanley V. Potter changed the bay window into a shop front for his electrical business. Although the Buildings are now pulled down the tree still stands which was in the garden of the house with bay window.
About 1912 Eastmoor got it's own entertainment when William Bagnall built the Coliseum on Stanley Road just across the road from where he lived. In 1933 sound was installed and the name was changed to the Star. Eastmoor residents had there own cinema until 1959 by then its name had changed to the Rex. Since then the building has been used as a Bingo Hall, Dance Hall and is now a billiard hall. A programme for March 1957 gives forthcoming attractions like "The king and I" and "Don't Knock the Rock" with Bill Haley.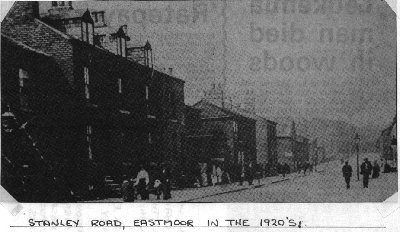 Stanley Vere Potter was the son of the manager of the Empire Theatre in Kirkgate and trained as an electrician with the Tram Company. When he married Gladys Godwin they set up home at 108 Stanley Road. Stanley set up his own business building and selling radios and charging batteries. He converted the bay window into a shop front. The business had to close in 1939 when war broke out. Stanley, being a skilled electrician had to work repairing public transport.
In the Kellys Directory of 1922 in the "Wakefield Private Residents" section was listed "Bagnall William, 108 Stanley Road". This was not far away from his brother Harry at 19 Stanley Road.
- Necia Potter
Wonderful recollections from Anne-marie Mcfarlane:

Moorvilla, 108 Stanley Road - the Post Office "C.THEWLIS & SON."on the right of this panorama Kind permission of Anne-marie Mcfarlane.
I always loved the old POST OFFICE, on STANLEY ROAD. It was formerly known as MOORE VILLA, and stood on the left hand edge of BAGNALL TERRACE. It's address was 108 STANLEY ROAD, and as our shop was 106, and was a ginnel and two doors away, means that PRICE'S SHOP and bungalow were new additions.
As MOORE VILLA it was lived in by the POTTER family and MR. POTTER was the one who altered the building to make it into a shop by adding a large front window, I believe it was electrical items he sold. I don't know if he retired, but I came to know them as the family who lived in the house at the back of the shop at 106, when my Granddad leased it as a lock-up shop, we still lived in ROYSTON then, and my uncle FREDDIE WILTSHIRE ran it.
Getting back to the POST OFFICE, when I came to live in our shop, in 1957, the POTTER family moved out and we lived in the house, A MR. THEWLIS had the POST OFFICE, though I think it was owned by MR. HARDWICK, who lodged with them, he also owned our shop.
As you went in the door, after walking past Bagnall terrace entrance and the large impressive house up a large set of steps, you could smell the age of the fittings, all wood. In front of you was a large glass case full of envelopes string ,ink and other stationery items, but to the right was the case I loved, full of pen gift sets and BASILDON BOND writing sets.
From the left corner MR. THEWLIS would appear, walking down a wooden staircase with handrail and come to the long wooden counter. It was always special for me, going in there, I suppose it was because it wasn't a place you went in every day, and I always felt quite grown-up, to be allowed to go and send a parcel.
The PIECE" was the area below our house, 18 RAWLINGS YARD, opposite the "FOX AND GRAPES" it was used as a parking area by the many ballroom dancers that came to the REX, In the 60. We used to look in the back of the cars and marvel at the beautiful dresses.
- Anne-Marie Mcfarlane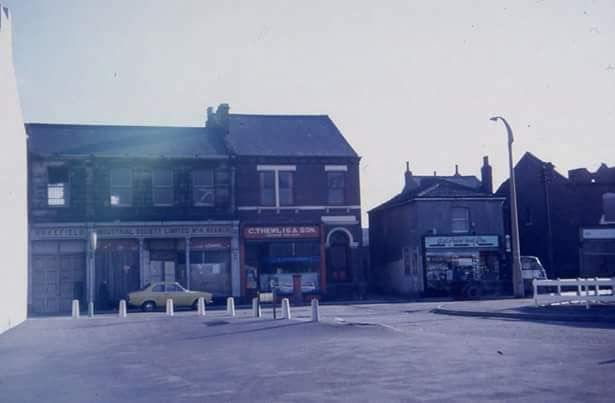 See also The Coliseum, also known as The Star and The Rex cinema on this page.
Top of Page
19 Stanley Road - Harry Bagnall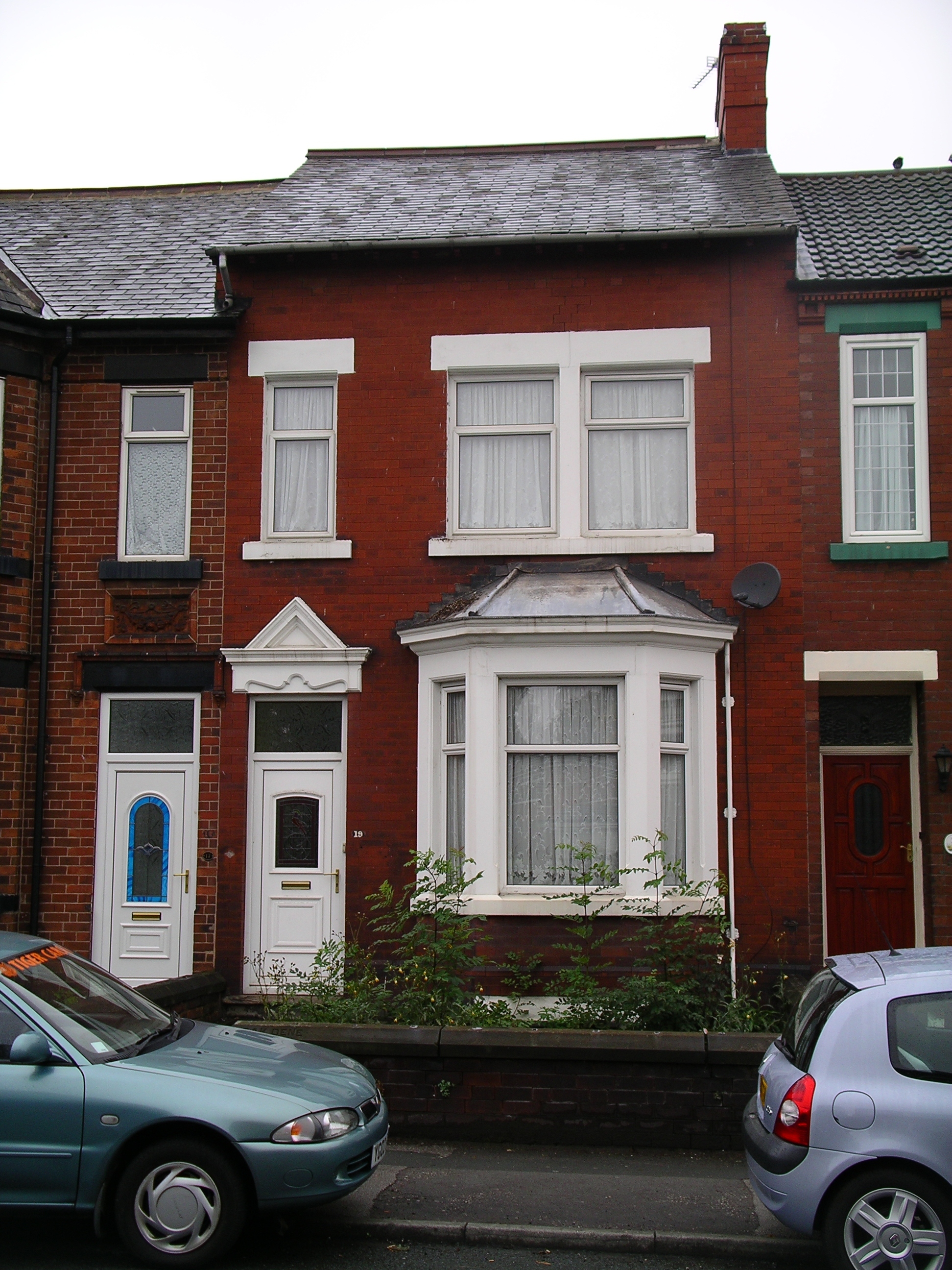 Bagnall Harry, 19 Stanley road' listed as private resident in a trade directory for 1922.
Map
Stanley Road
In the 1892 & 1904 Wakefield Commercial Directory is listed "Bagnall Brothers, builders, Stanley road"
Since The Butchers Arms is 79 Stanley Road, I assume it was close by, perhaps where the Stanley Car Wash is now?
Map
Top of Page
79 Stanley Road
From the 1901 census, we know that in 1901, John lived on Stanley Road, the Butchers Arms is 79 Stanley Road, so perhaps this was the house or replaced the house?.
Map
Aberford Road - Stanley Victoria Club
On the website welcometowakefield.org.uk the writer describes Stanley Victoria Club:
Map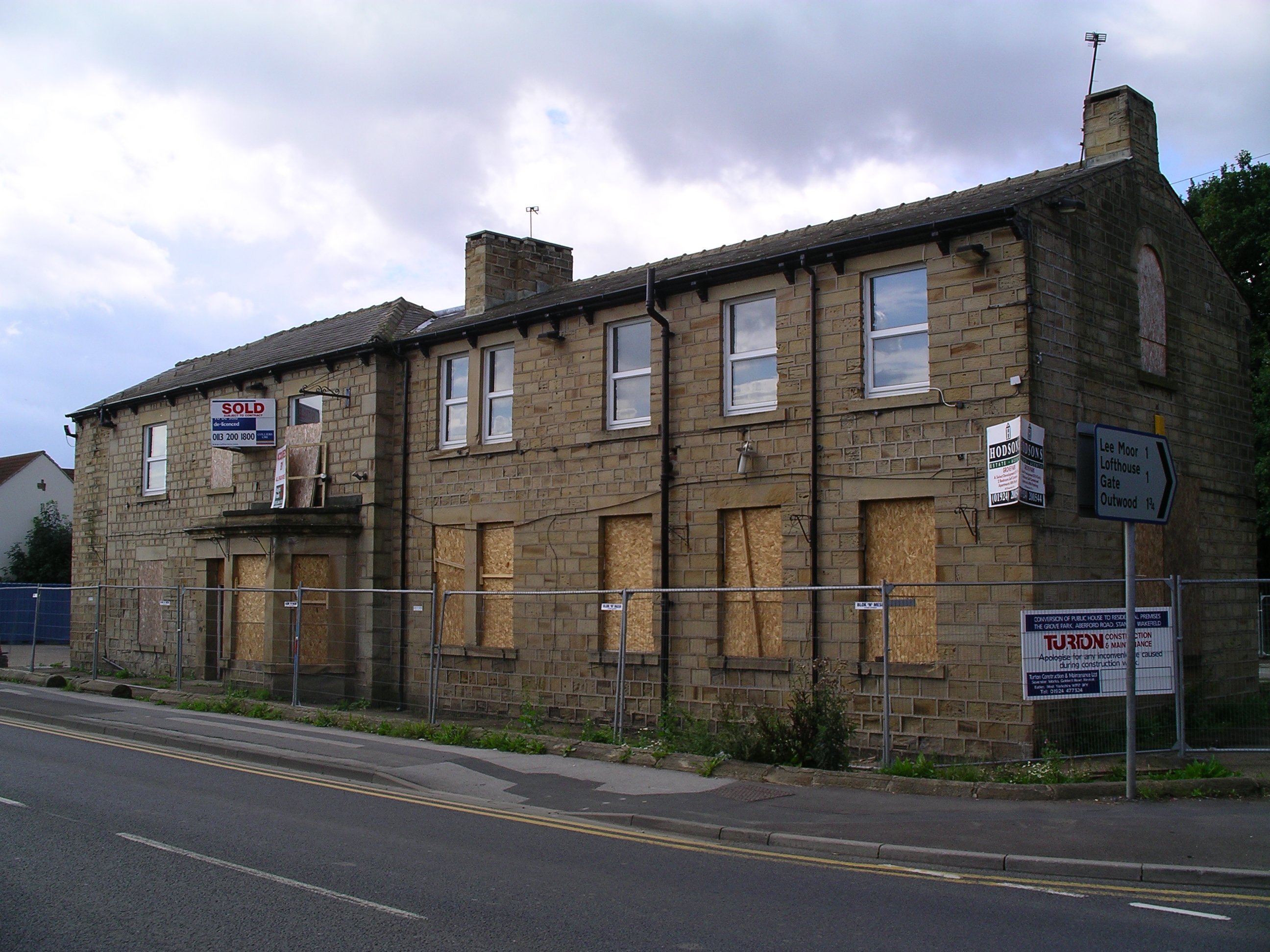 STANLEY VICTORIA CLUB, Aberford Road/Lime Pit Lane - now known as 'Grove Park' and privately owned. Originally it was an all-stone building being part of the Colliery undertaking associated with the Deep Drop Colliery owned by Messrs. R. Hudson and Company and was probably used as office accommodation and stores, It would be built in the early part of the 19th century.
I remember in the early 1930's this club having a Bowling Green which was not always in good condition due to being flooded after heavy rain. Water would settle and often, during a rainy spell, it would be unfit to play on for lengthy periods. The secretary of the club in 1922 was Alfred McDonald. At this time part of the building was used to stable horses belonging to a builder named Bagnall who also kept materials in the yard.
Rawling(s) Yard
Please see Rawlings Yard.
Bagnall Street

Please see Bagnall Street.
Greenhill Road
In a trade directory of 1887 in the "private residents" section is listed "Bagnall Mr Thomas, Greenhill road"
Map
112 Stanley Road - John & Mary Ann Bagnall
In the 1881 census, John and Mary Ann are listed as living at 112 Stanley Road.
Map
Top of Page
174 Aberford Road / Ivy Bank The Grove
Tony Bagnall wrote this about Ivy Bank: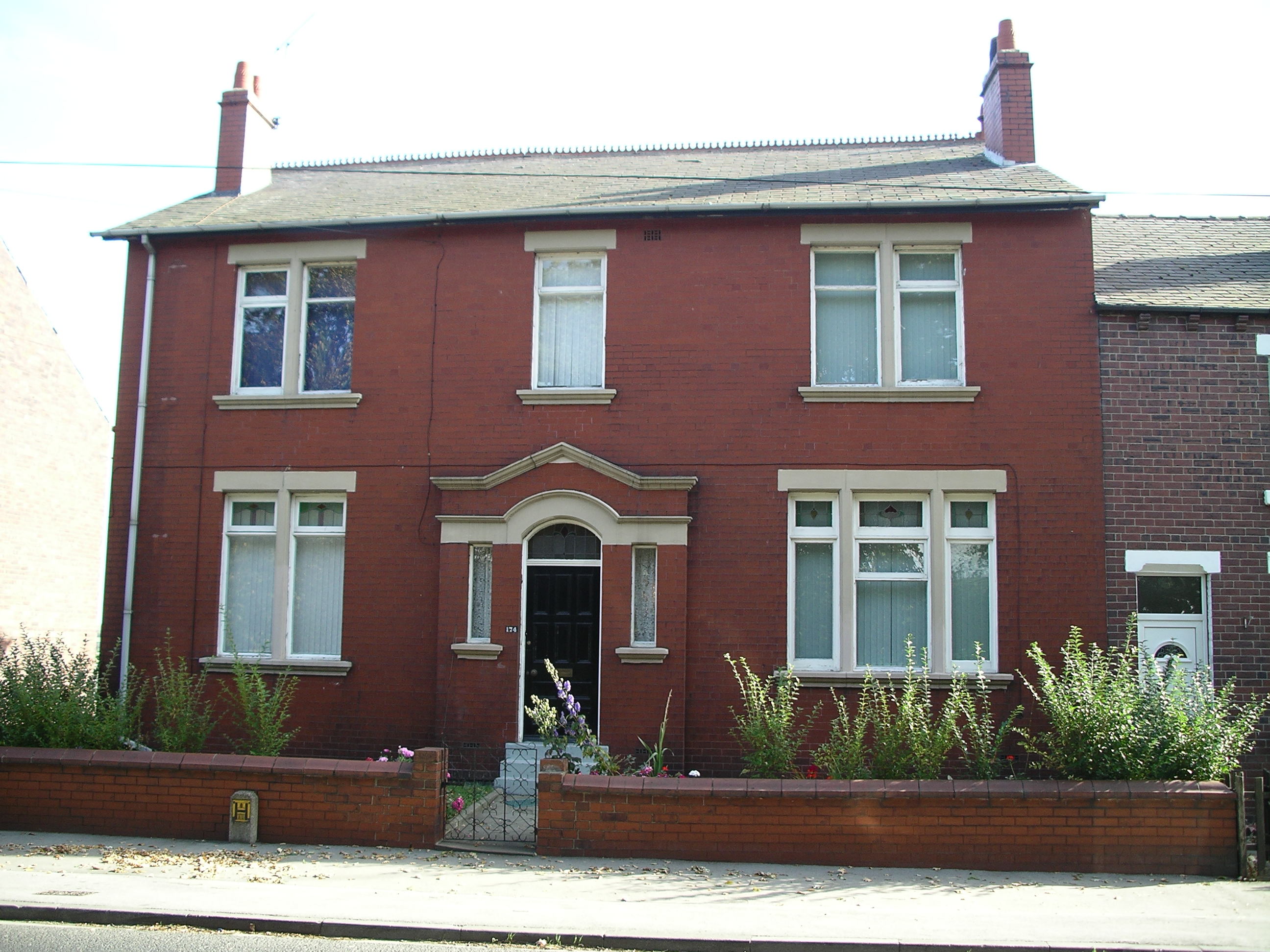 I lived in 174 Aberford Rd Ivy Bank in 1979 to 1994 George Bagnall built the house aprox 1907. My father Jeffrey plus Edna and Rolland were born there as was my brother Colin and I.
I don't have the sign Bagnall Terrace the sign I have is Bagnall Street.
If I can fill in any more gaps in the history let me know.
- Tony Bagnall
Richard Barker wrote to me recently by email, he was enquiring after Bagnall Buildings:
"Quizzed an older local resident abt Bagnall Buildings he hadn't heard the name applied to a terrace of houses but informed me that a Mr Bagnall built & lived at 174 Aberford Rd (situated between 2 of the terrace blocks) & that Mr Bagnalls son later lived at this address."
Map
Also, my cousin, Pamela Brockbank gave anecdotal evidence of 174 Aberford Road being perhaps built by a Bagnall and lived in by a Bagnall(s)
Could this then also be "Ivy Bank, The Grove" as mentioned in the following items?:
1922
In a trade directory of 1922, George Bagnall is listed as a councillor for Outwood: "Outwood SUDC Stanley Ward George Bagnall"
George Bagnall listed in a directory as a private resident at Ivy Bank, The Grove".
1922 - 1923
George Bagnall was chairman of Stanley Urban District Council, living at Ivy Bank, The Grove, Stanley
1927
'Bagnall Geo. Bldr. Ivybank, The Grove' listed in directory.
George Bagnall listed in directory as member of the Council in Outwood for the Stanley Ward.
1936
'Bagnall Geo. bldr. Ivybank, The Grove' listed in commercial directory.
Rowland W Bagnall listed as a private resident at Ivybank, The Grove in directory.