Bagnall Bricks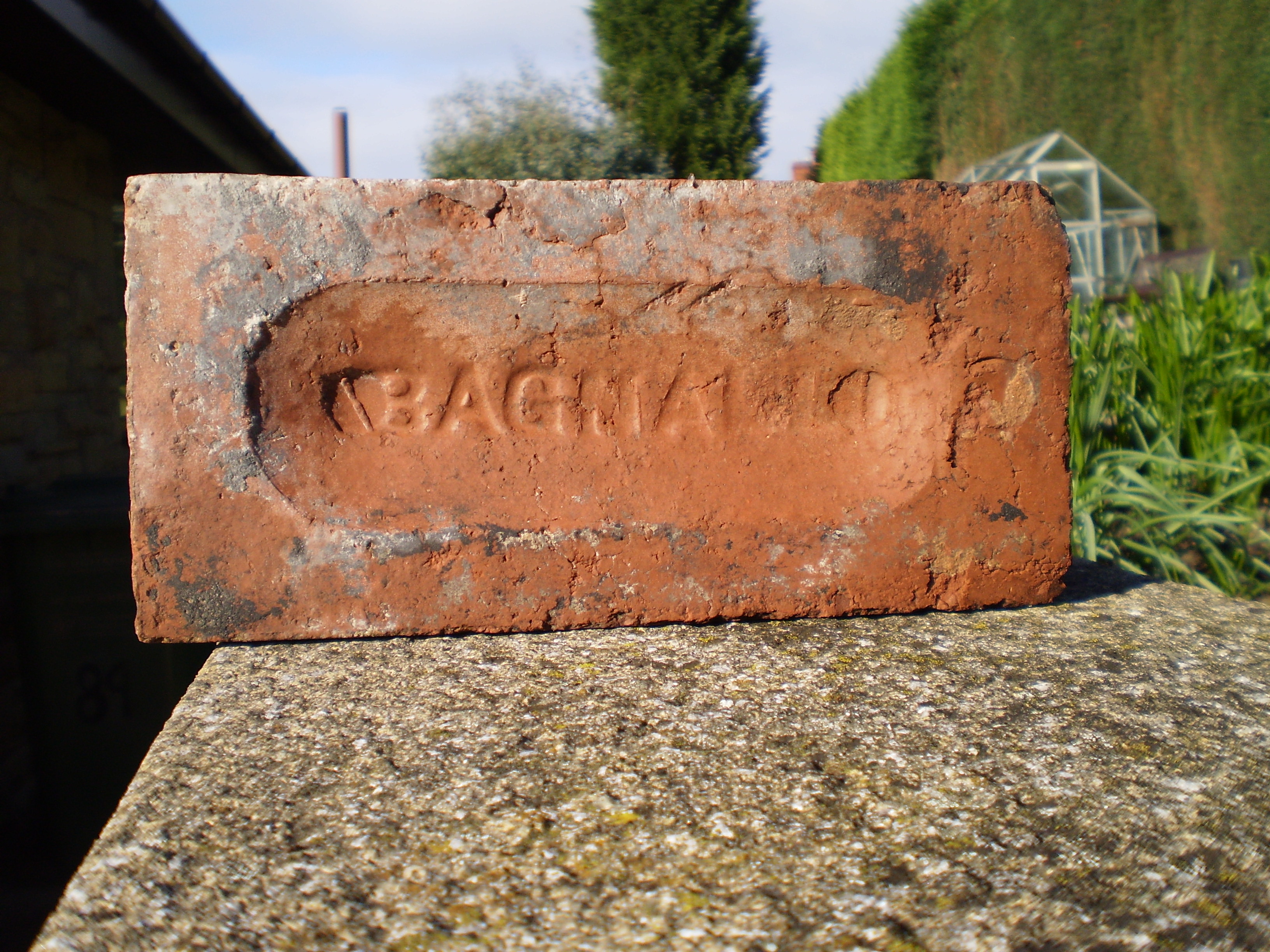 It seems that as well as building much of Wakefield, much of what it was built from was made locally, in two (or more) brickworks. Mount Clay Brick Works and Wind Hill Brick Works.
These aerial photos from 1932 show Eastmoor and the dark chimneys of the two brickworks.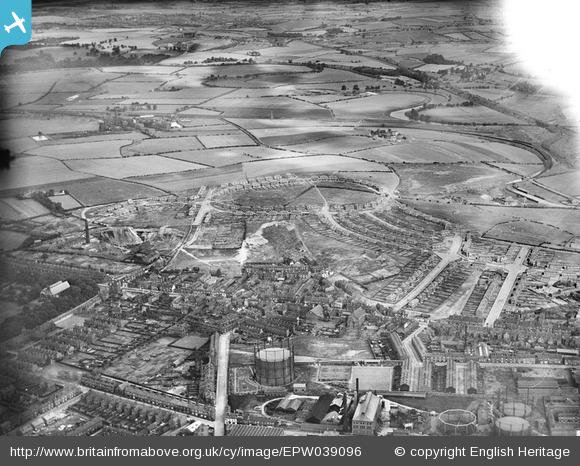 In this picture, it's hard to see the chimney of the Mount Clay Brick Works, but it is quite evident in the next two photographs.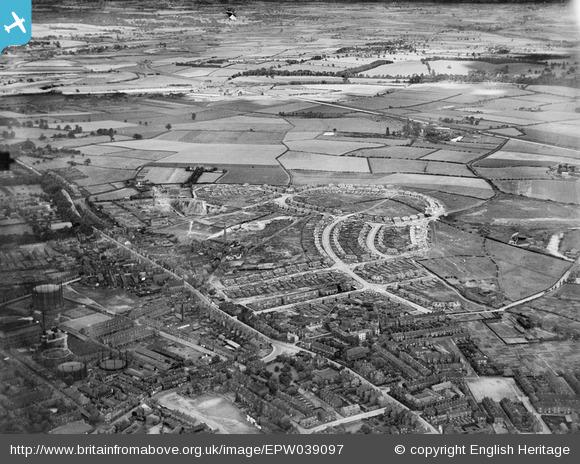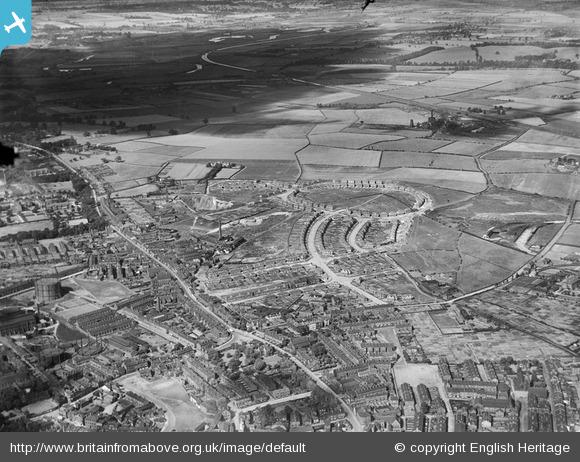 Mount Clay Brick Works
Map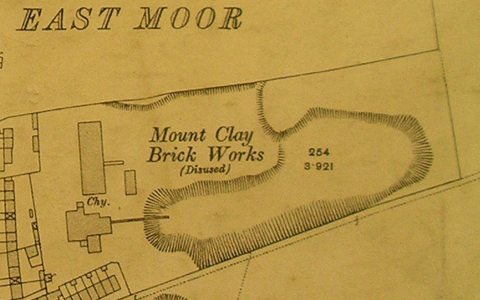 Mount Clay Brick Works, not far from much of the history of the Wakefield Bagnalls, shows like a scar on the landscape on old, Ordnance survey maps (See The Time Machine), and it seems it may at one time have been a brick factory run by the Bagnalls of Wakefield. Now, you would not guess it had ever existed as you look across the playing field which now occupies the space that the factory once did.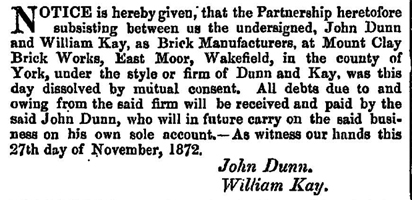 This notice from the London Gazette on 3rd December, 1872, mentions the passing of the brickworks from a partnership between William Kay and John Dunn into single ownership by John Dunn.
1909, 28th July Yorkshire Evening Post
WANTED, PIANO SCREEN, also a REPRESS: must be in good condition.-Bagnall Bros., Mount Clay Brickworks, Wakefield.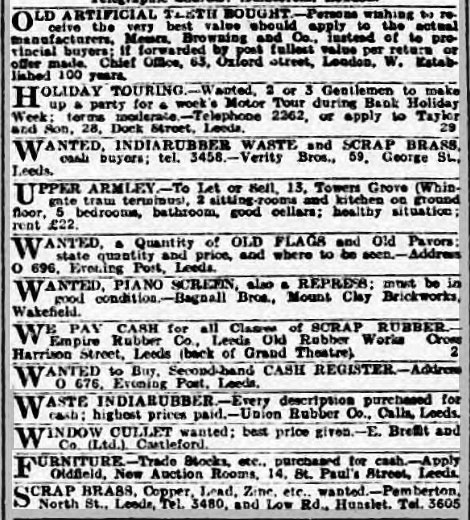 1909, 4th October Yorkshire Evening Post
To LET, HAULAGE of ONE MILLION BRICKS by traction or motor.-Apply Bagnall Bros., Mount Clay Brick Works, Wakefield.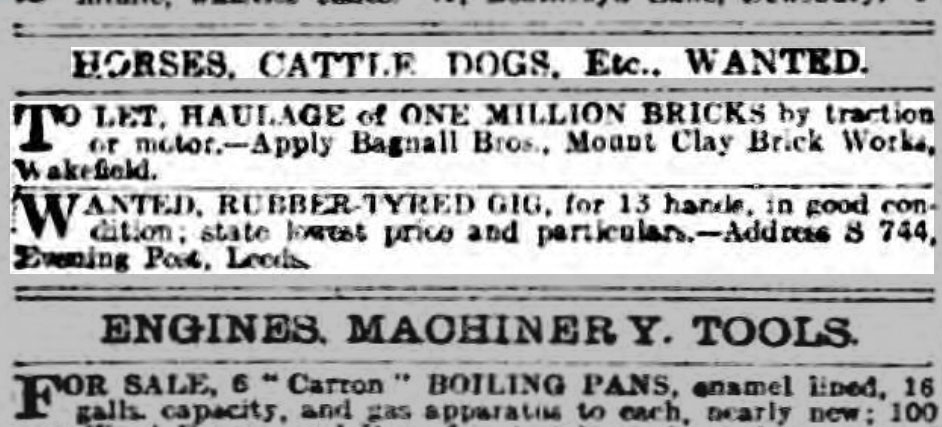 1910 William & George Dissolve Bagnall Bros.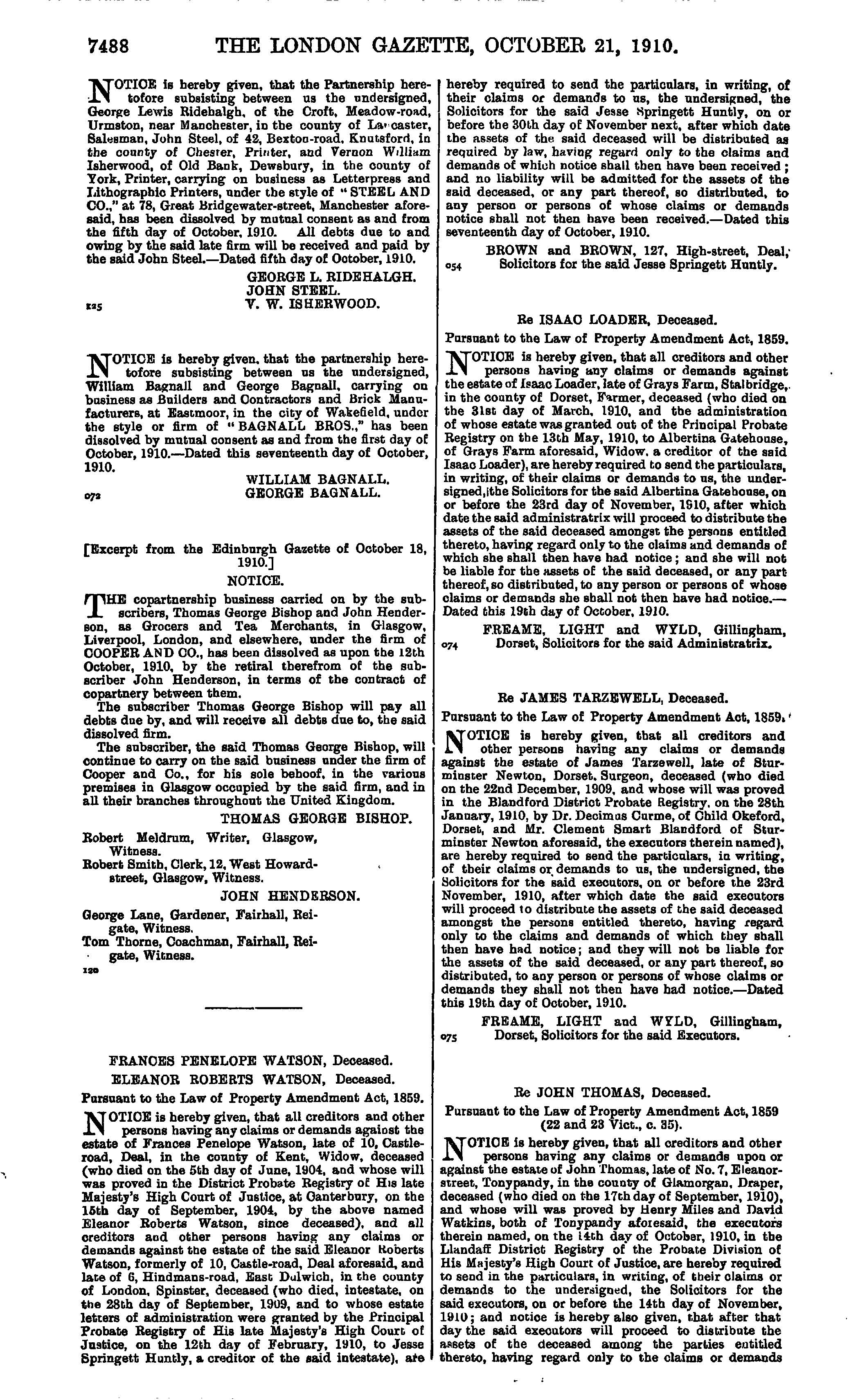 It seems that from this notice in the London Gazette, from October 1910, on 17th October, George and William Bagnall dissolved the firm "BAGNALL BROS."
This advertisement in the Yorkshire Evening Post on 21st August 1912 implies that the running, possibly the ownership of the brickworks was in the Bagnall family. Perhaps George teamed up with Harry?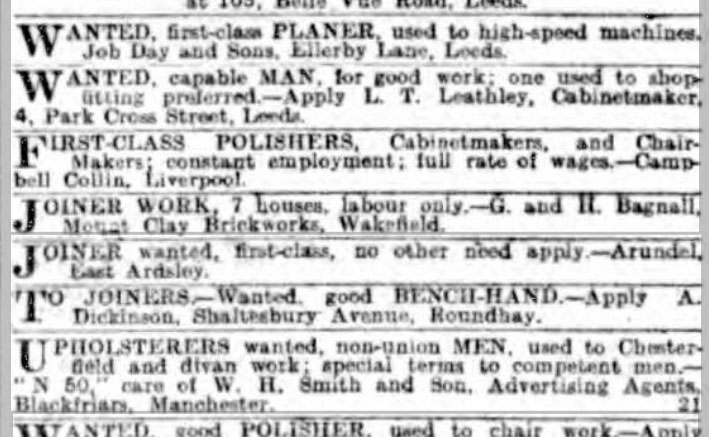 JOINER WORK, 7 houses, labour only, -G. and H. Bagnall, Mount Clay Brickworks, Wakefield.
It would be my assumption that this was George and Harry Bagnall.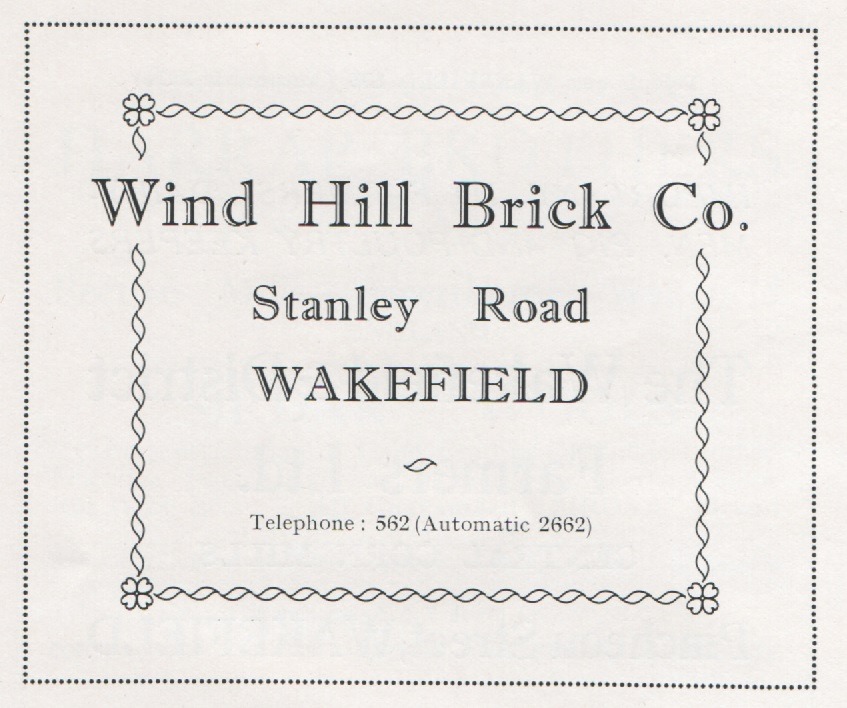 This advert in the Official Wakefield Handbook, 1927, was brought to my attention by Dave Russ on the Wakefield Historical History Site (WHAS) a rich seam of historical information for the area. Thanks Dave.
Perhaps the Bagnall brick (Pictured at top) was made there, or at the brickworks in Accrington as related to me by - Margaret Johnson and - Michael Webster .
... they are Accrington brick. Grandpa did have a brick factory there and Granny had to run it for him in the 1st World War. He left her to do everything plus five children, two of which died. After the war I think he sold the brick factory so they would not have been his that he used on our house. Mother loved the red but I don't much like it, too shiny red!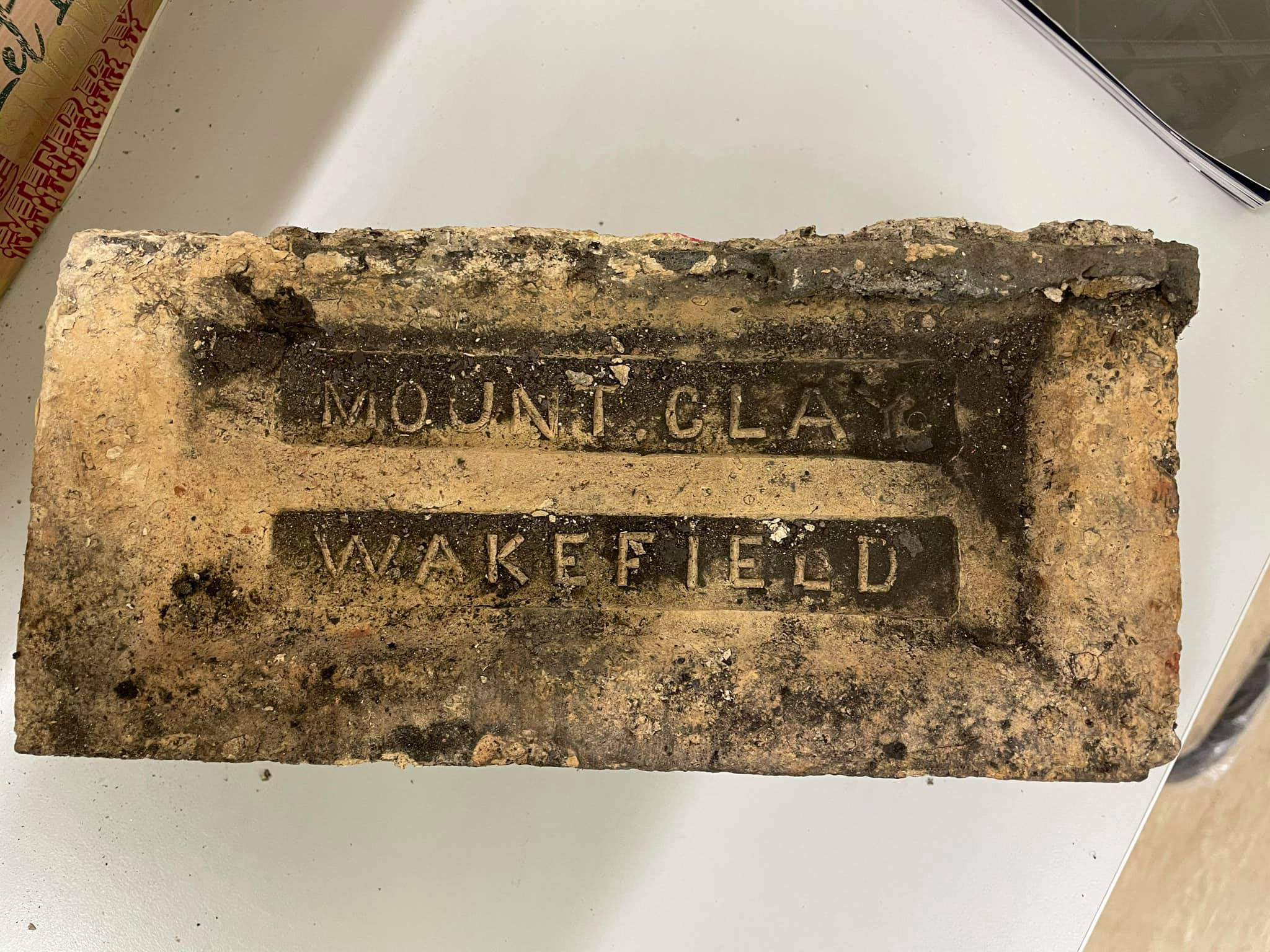 This brick, brought to my attention by Jonathan Webster, was certainly made there! Thanks Jonathan.
A Mount Clay brick also features on the Old Bricks - history at your feet website.
Wind Hill Brick Works
Map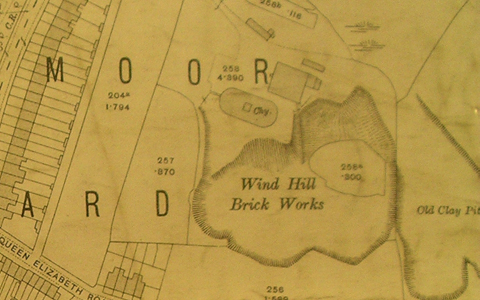 There is also nothing much left of the Wind Hill Brick Works except for an open playing field and several surrounding streets with names such as Wind Hill View and Wind Hill Close. - Michael Webster 's recollection below connects the Bagnalls with Wind Hill Brick Works.
A couple of Wind Hill bricks feature on the Old Bricks - history at your feet website.
Grandpa made at least 2 sorts of bricks, both I think were made to the Accrington formula, the orange ones and the blue ones. If you tried to drill through the blue ones the end of your drill bit usually dropped off before you got the hole drilled. These were engineering bricks which when I lived at 401 Aberford Road consisted of all the internal walls and the inside skin of the external walls. His brickworks, as far as I remember was on Ivy Lane opposite the entrance to Stanley Royd hospital.
If he was building a large site, he made a brickworks on site, otherwise he had 70 pairs of horses and transported them to Kirkgate station, he eventually sold out to his friend Armitage Brickworks.
The Normanton brickworks have a vast collection of bricks, that's if they're still in business.
Grandpa's bricks are still evident after aprox 100 years and are all over Stanley and a lot of the schools he built are still going strong.
He built most of Beeston area of Leeds which have been converted from back to back terrace houses to through terraces with Marble looking fireplaces and the ones that I have been in are in excellent condition.
Bagnall Brothers was Uncles Jeffrey & Roland, Grandpa was Geo Bagnall, possibly & son.
There is also a sample Bagnall Brick on the Old Bricks - history at your feet website.